Wellington, FL - February 21, 2018 -
Sunday
was quarterfinal day at International Polo Club Palm Beach (IPC), and eight teams fought for a place in the next stage of the Ylvisaker Cup, the last 20-goal tournament of the IPC season. During the
3:00pm
feature match GSA defeated Pilot 10-9 on the Engel & Volkers main field, in what was a vibrant and evenly paired match.
Pilot secured a 6-3 advantage at the beginning of the fifth chukker, but MVP Mariano González came through for GSA to put his team within one goal of their opponents (6-7). The game came to a head in the sixth chukker, when GSA took control of the match to go up by one goal. With two minutes left, GSA widened their advantage (10-8). They managed to survive Gonzalo Pieres's 30-yard penalty conversion, and hold Pilot off until the bell. The match ended 10-9 in favor of GSA. Six goals were scored in total in the sixth, making it the most thrilling chukker of the match.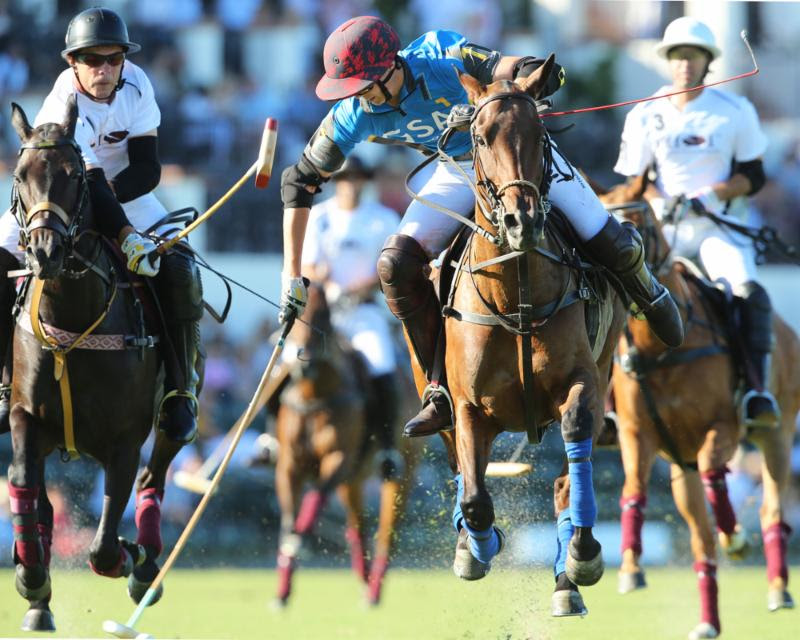 GSA made a comeback in the fifth chukker to claim the win.
"It was a tough game," commented MVP Mariano Gonzalez. "The first two chukkers were okay, not great, and in the third chukker [Pilot] grabbed the ball and we couldn't find it for a chukker and a half at least. We were able to get organized again in the fifth chukker and turn the game around a little bit. Our plan worked at first, but the guys on Pilot are smart and adapted to it which is why we couldn't get the ball in those middle chukkers. We changed our plan in the fifth and that worked enough and we held the lead to the end."
Sunday

, February 18: GSA 10 - Pilot 9
GSA (20):
Henry Porter 2, Dylan Rossiter 4, Mariano González 7, Matías Magrini 7.
PILOT (20):
Curtis Pilot A, Timmy Dutta 1, Gonzalo Pieres 9, Facundo Pieres 10.
Score:
2-1, 2-2, 2-5, 3-6, 6-7, 10-9.
Best Playing Pony:
Macarena, played by Mariano Gonzalez
Most Valuable Player:
Mariano Gonzalez
Macarena, played by Mariano Gonzalez, won the Best Playing Pony award

on Sunday

afternoon.
Prior to the
3:00pm
match, Tonkawa beat La Indiana 12-11 in an attractive match on Field 5. Colorado edged Postage Stamp 13-10 at the other
10:00am
match on Field 3 and at
12:00pm
Valiente easily defeated SD Farms by 13-6 on Field 4.
Tonkawa:
Jeff Hildebrand, Sterling Giannico, Sapo Caset, and Julian de Lusaretta
La Indiana:
Michael Bickford, Toro Ruiz, Facundo Obregon, Jeff Hall
Colorado:
Rob Jornyvaz, Juan Britos, Diego Cavanagh, and Santino Magrini
Postage Stamp:
Annabelle Gundlach, Brandon Phillips, Mariano Aguerre, Kris Kampsen
Valiente:
Bob Jornyvaz, Bautista Panelo, Santi Torres, and Adolfo Cambiaso
SD Farms:
Sayyu Dantata, Adam Snow, Inaki Laprida, Peco Polledo
Tonkawa beat La Indiana 12-11

on Sunday

at the

10am

match on Field 5
The Ylvisaker Cup semifinals
are set for Wednesday:
12:00pm
: Tonkawa vs. Valiente
The Ylvisaker Cup final is on Sunday, February 25 which remembers the legendary figure William Ylvisaker, will be held on Field 1 at
3 p.m.
Photo Credit ©AlexPacheco. These photos may only be used once in relation to this press release with proper credit.
Game report, stats and photographs provided by International Polo Club Palm Beach.